UNDERGRADUATE CERTIFICATE IN

MULTILINGUAL SERVICES
Program Information
---
College: Communication & Information
Degree: Undergraduate Certificate
Limited Access: Yes
Contact: Dr. Carla Wood
Address:
201 W. Bloxham,
Warren Building
Tallahassee, FL 32306-1200
Phone:
Email: carla.wood@cci.fsu.edu

MULTILINGUAL SERVICES DELIVERY: AN INCREASING NEED
The FSU School of Communication Sciences & Disorders Multilingual Services in Speech Language Pathology Certificate program provides students with a foundation regarding multilingual development, assessment, and intervention for clients from historically marginalized racial/ethnic and linguistic backgrounds.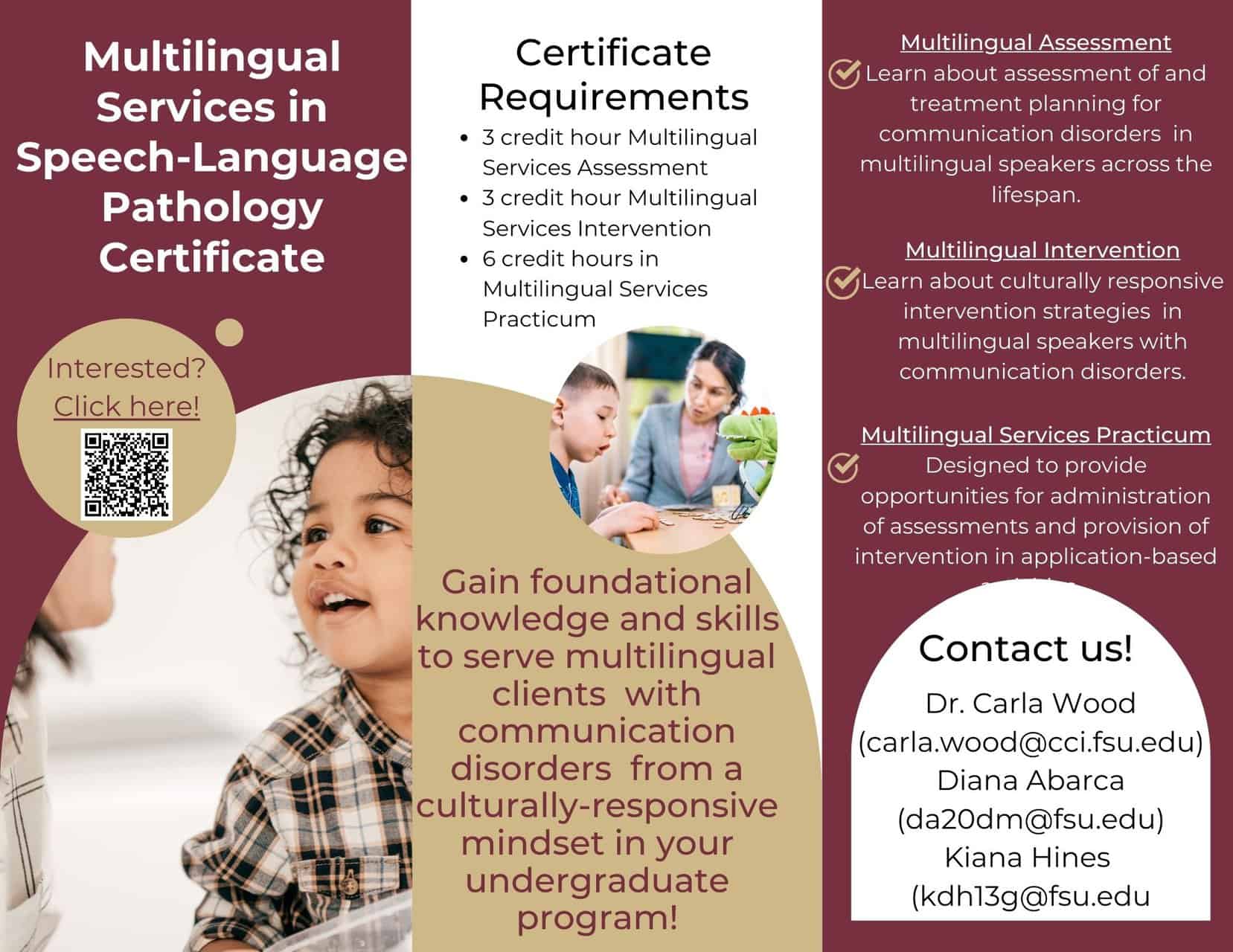 ---
To address the needs of an increasingly diverse client population, speech-language pathologists are challenged to intensify language and literacy instruction and rehabilitation tailored to the language needs of clients with multilingual backgrounds. In 2018, a record 67.3 million U.S. residents spoke a language other than English at home. The number has more than doubled since 1990 and almost tripled since 1980 (Center for Immigration Studies, 2019). Additionally, multilanguage learners (MLLs) are one of the fastest growing student groups receiving language instruction in education programs with 48 million MLLs across the country in 2016-2017. During the 2017-2018 school year, 11.2% of students with disabilities were MLLs. ASHA's Code of Ethics clearly describes speech-language pathologists' responsibility in engaging life-long learning to provide evidence-based services for all clients, regardless of cultural and linguistic background.
To equip future speech-language pathologists to respond to current workplace demands, this certificate program will provide students with the foundational knowledge and skills needed to approach clinical practice with multilingual children and adults from an evidence-based mindset. These skills include assessment, treatment plan development, intervention, and plan implementation. The courses are constructed to provide the skills necessary to consume, conduct, and produce research as well as provide clinical service delivery with a focus on multilingual learners and users across the lifespan. All courses focus on topics related to a) cultural responsiveness/cultural sustainment, b) multilingual assessment, c) multilingual intervention, and (d) practicum opportunities in research and clinical contexts.
The certificate is designed for current undergraduate students and is open to CSD students. Students who complete the certificate will be able to:
Understand the impact of personal-level and environmental-level factors on the experiences of multilingual speakers with communication disorders
Explain the process for multilingual development and language recovery in multilingual users
Identify and describe evidence-based approaches for assessing and intervening with multilingual children with communication disorders
Identify and describe evidence-based approaches for assessing and intervening with multilingual adults with acquired communication disorders
Apply knowledge of culturally responsive/sustaining practices in case-study and real-word application activities
Related News