MASTER'S IN

COMMUNICATION SCIENCE & DISORDERS (DISTANCE LEARNING)
Program Information
---
College: Communication & Information
Degree: MS
Limited Access: Yes
Contact: Jennifer Kekelis
Address:
201 W. Bloxham,
Warren Building
Tallahassee, FL 32306-1200
Phone: (850) 644-2253
Email: jennifer.kekelis@cci.fsu.edu

NEW for the Fall 2021 Admissions CycleFSU is waiving the GRE requirement for most programs. This includes the Master's in Communication Science & Disorders program. Students may submit scores with their application but it is not required. There will be no penalty for not submitting scores and no extra credit will be given should scores be submitted.
GRADUATE EDUCATION IN HYBRID LEARNING ENVIRONMENT
This graduate program offers students the opportunity to obtain the skills to diagnose and treat communication disorders in a part-time, online hybrid learning environment.
The goal of this graduate program is to address the critical shortage of speech-language pathologists by allowing students to gain hands-on knowledge and experience at clinical sites in their community in Florida. Classes are offered fully online and students participate in practicum experiences at schools, hospitals, private practices, and other clinical sites in and around their community.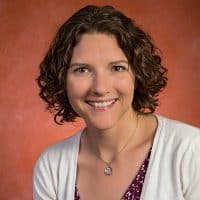 "I am interested in work with individuals with aphasia to help them regain some of their language skills that had been affected by a stroke."
Assistant Professor, School of Communication Science & Disorders
Accreditation statement: The School of Communication Science and Disorders' Master of Science (both residential and Distance Learning) education program in speech-language pathology at Florida State University is accredited by the Council on Academic Accreditation in Audiology and Speech-Language Pathology of the American Speech-Language-Hearing Association, 2200 Research Boulevard, #310, Rockville, MD 20850, 800-498-2071 or 301-296-5700.
Related News